CHRISTMAS IN A STABLE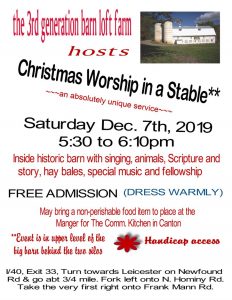 the 3rd Generation Barn Loft hosts Christmas Worship in a Stable – an absolutely unique service!
Saturday December 7th at 5:30 pm.  Free Admission – dress warmly.  Handicap access.  Event is in the upper level of the
barn.   Inside historic barn with singing, animals, Scripture and story, hay bales, special music and fellowship.
Bring a non-perishable food item to be placed at the manger – these will be donated to the Canton Community Kitchen.